Welcome to the Fun Sport & Social Group Site!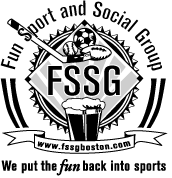 Thanks for visiting the site of the Fun Sport & Social Group!!!

<--- Click on our other pages (far left).

Our site enhancements are continally being made. Check back regularly as we progress!!!
Psst, tell your friends about us.

We are about to start a new hockey season Jan 29. Our indoor soccer league is midseason. This spring we will offer softball, floor hockey and outdoor soccer for all of you! Join us!

Check out the pictures of our ski trip to Sugarbush, VT! This year's trip had 63 people enjoying fresh powder, skiing, sledding, hot tubs and parties all weekend long. Join us for the next one in March, details coming soon.

In the meantime, why not join our mailing list to get the latest on our leagues, social events and other happenings?
Thanks again for visiting. Come back soon.
You can also contact us at email address fssg@visto.com.

-The Fun Sports Team
(7/19/2000)
View My Guestbook
Sign My Guestbook
Find Latest Headlines:
Centerfields Bar & Grille:
Canton & Norwood MA.
The Brettl-Hupfers Ski and Sports Club, Bartlett Village, NH.
A place For Women To Find Peace.